Training Program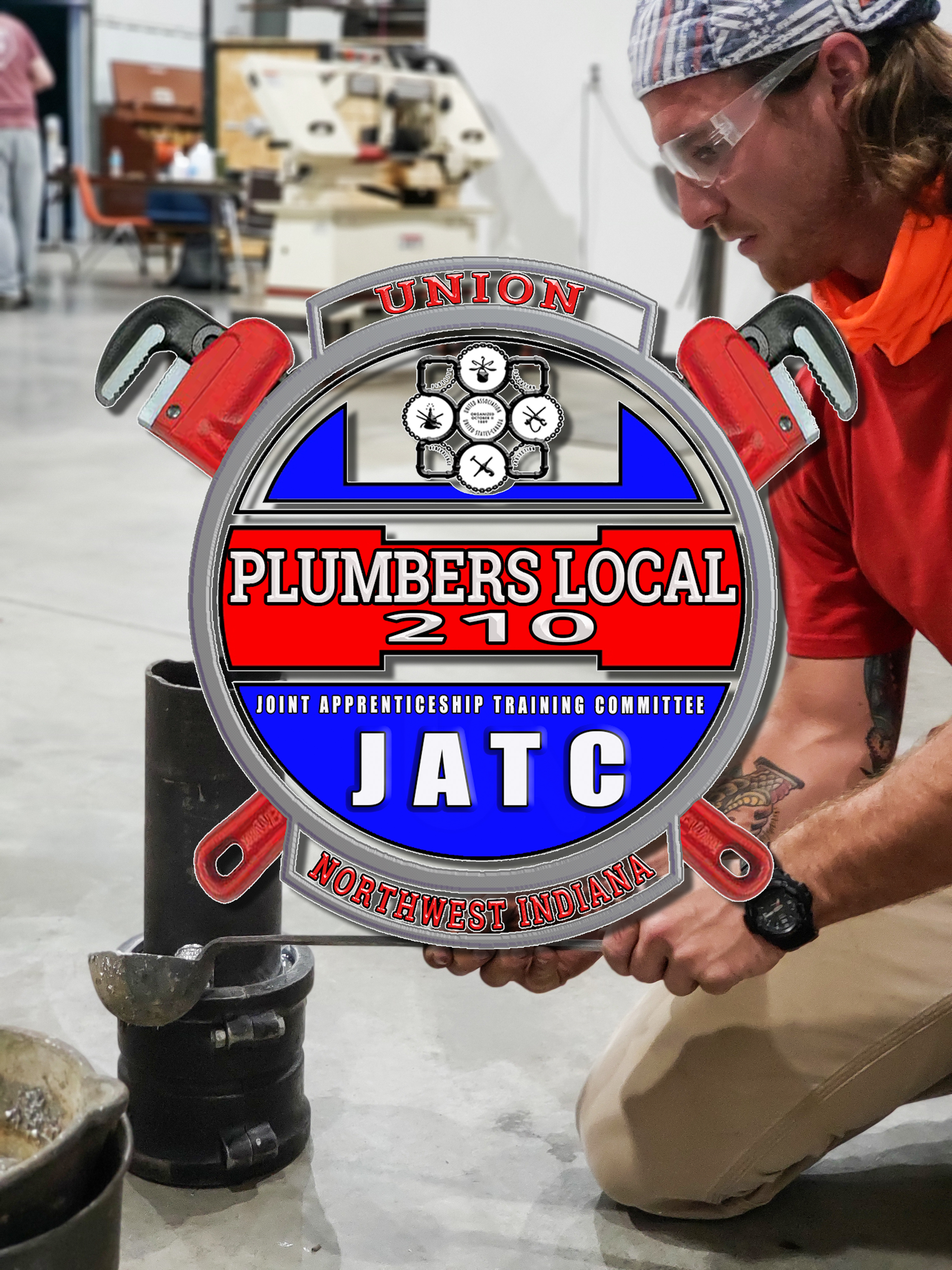 HISTORY
The UA spends over $200 million a year in the training of apprentices and journeypersons. Plumbers Local 210 has an annual budget of approximately $500,000.00 on training alone. The UA and Plumbers Local take training very seriously. Members of the Local go through a five (5) year apprenticeship. In order to complete the apprenticeship students exceed the Department of Labor required hours in the classroom. Participants also receive an Associate in Applied Science Degree from Ivy Tech University. The training doesn't stop there! Journey workers are required to complete eight (8) hours of continuing education each year. Safety, as well as the newest technology, is integral to this training. Certifications earned by both apprentice and journey workers include; OSHA 10, OSHA 30, Confined Space, Rigging, Signaling, Backflow, and Welding. Our Plumbers are random drug tested for a safe working environment.
---
Plumbers Local 210 JATC Application Process
How to apply
STEP #1
Requirements:
Applications only are taken for 10 days each January (see below)
$25 application fee
17 years old to apply
18 years old to begin program
High School Diploma or GED
Background Screen will be performed
Valid Driver's License (standard insurance, not a high risk.
Our contractors must be able to ensure you to drive their company vehicles)

STEP #2
What to bring:
1. Completed Application (can be printed off the
website school page or filled out in person)
PLU210.ORG School page
2. Copy of Driver's license
3. A copy of your birth certificate or other such documents for proof of age.
4. A copy of your high school diploma (and college
diploma if applicable).
5. High school transcripts
Transcripts must have the raised seal or maybe in a sealed envelope from your school. Please
note that if your school is mailing the transcripts directly to our office they must arrive prior to
the application date, you can call to verify their arrival. Or GED Certificate with the official report of
test results.
6. Copy of Military transfer or discharge form DD-214 if applicable.
*Please note - the requested COPY items need to be copied, we will not make them for you.
Please return the completed application and the following documents only on the application days
on the following page. We will not accept them any other time and you must return the
application in person (friend/relatives may not return them for you).
(over)

How to apply STEP #3 Interview
The Interview times will be scheduled after background screening
results are complete.
Passing a drug screen will be required as a condition of employment
and issued randomly throughout your training.
This screen is administered by the BCRC at no cost. Masking the test or diluting of it will be considered
a failure.
All apprentice and journeyman plumbers in Indiana must carry an Indiana State Plumbing License before
performing work according to the law.
The application contains criminal background questions you must answer. The Indiana Plumbing
The commission will review and grant or deny your license request. If denied, by law you cannot work as a
plumber in Indiana. The State of Indiana application can be viewed here: http://www.in.gov/pla/2761.htm

TERMS OF THE APPRENTICESHIP
1st-year students attend school every Monday for a normal school year. The student works in the field
Tuesday through Friday with overtime as work is available.
2nd-5th year students work Monday thru Friday with overtime as work is available and attend classes two
nights a week.
An 80% Grade point average for each subject is required. Class
attendance is mandatory.
8500 hours of on the job training are required over the 5-year period.
Progressive pay increases after the first semester based on grades, monthly progress, & attendance.
Starting wage for 2020 $14.37
If you have read this document fully and still have a question, please contact Bill Virgin
Bill Virgin
Plumbers Local 210 JATC
2901 E. 83rd Pl.
Merrillville, IN 46411
219-942-7224
wvirgin@plu210.org
www.PLU210.ORG
APPLICATION DATES FOR 2023 WILL BE POSTED AT A LATER DATE.
Page Last Updated: Jun 180, 2022 (07:21:08)